Saturday, May 14, 2005
TO Rosie O'Donnel
So Rosie O'Donnel has this wonderful blog community of women and a few guys sprinkled about. Some twit, a one CAMPBELL ROBERTSON, from the New York TImes sees her at an opening for the Broadway Musical Sweet CHarity, with her flicker phone from which she shares terrific pictures of where she is with her appreciative blog family. CAMPBELL takes it upon himself to visit her blog then writes a rude, patronizing article. Rosie shared it on her blog and my response to this is the following poem
For Cambell Robertson
(sung to the tune of the Adam's Family)

were all together crazy
our spellin skills are hazy
illiterate or lazy
we're Rosie's family.

Your name is on my soup can
your really not a nice man
your article was real blan
we're Rosie's family

The New York Times is calling,
you better get a crawling
Hey, none of us are balling!
we're Rosie's Family

da da da da da, we are cool !
da da da da da you is a fool !
da da da da da da da da da da

So now my song is ending,
I really am pretending
to not be condescending
we're Rosie's family

da da da da da--- we're hot!
da da da fa fa ---your not!
da da da da da da da da da da da da da!!

WE LOVE YOU ROSIE!!!

Friday, May 13, 2005
FOR TODAY
To find the universal elements enough; to find the air and the water exhilarating; to be refreshed by a morning walk or an evening saunter; to be thrilled by the stars at night; to be elated over a bird's nest or a wildflower in spring - these are some of the rewards of the simple life.
John Burroughs

BACK TO THE LAND OF THE LIVING
Thank you , wonderful (((Friends)) for the love, support, healing energy, and (((Lois Lane)), I may send that poem along with my feed back sheet to the swanky surgery office! (with your permission, of course)
Phyllis - I love you all! I am hugging my puter screen where the angelic faces of your little ones shine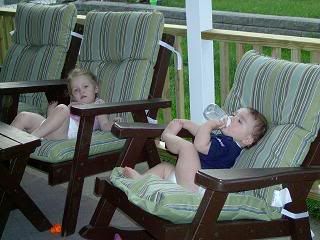 Beezy Loves You XOXOXOXOXO

the pictures mAde my day!

* WELCOME HOME LYNN * MEGAN WE LOVE YOU

* ONLY 27 DAYS TILL LENNA COME HOME!!

* KIM YOUR POEM ROCKED, AS DOES BO BICE!!!!

* CAROLYN- THANKYOU FOR REFORMATTING THE FILES!

* BEAR, THANKYOU FOR SHRINKING THE PICS TO JUST THE RIGHT SIZE FOR THE BLOG!

* MY LOVE, GOOD LUCK ON YOUR TOURNAMENT! yOU ARE NUMBER #1
IN MY EYES. ALWAYS!

Thursday, May 12, 2005
I LOVE THIS
"Stay together, Friends. Don't scatter and sleep.Our friendship is made of being awake." ~ Jalaluddin Rumi

Tuesday, May 10, 2005
ORAL SURGERY DAY (UGH)
so i will sit in the chair at my oral surgeons office thismorning, while he cuts through my gum, digs out whats left of a broken tooth , then performs BONE GRAFTING. AAAAAhhhhhhh! I get nauseous just saying it.
Please send lots of calm ,healing energy my way cause im a gonna NEED IT!!
Hopefully i will be able to catch up with all of you tommorrow evening.

M*G- i so appreciate all your help last night trying to get my yahoo messenger going. God only knows what technological faux pah, is preventing my successful installation of this.

LOIS- your story was just wonderful and i look forward to the day I have to purchase a magazine , book, or both to read your glorious creations.

Kim- what can i say...BO BICE---YOU ROCK OUR WORLD!!

Carolyn- your flowers are amazing! I cant wait to sit on your deck , sipping a frozen daqueri, taking in all of the beauty you have grown and nurtured.

Phyllis, I Love you, but if you dont mail new pics of Raquella * Max soon, I am going to cry!

Jaqueline- you are so incredible! I am so Proud of you! We look forward to your visit next month.

Love * Hugs,
MB-Aunt Beezy

Every Mothers Prayer*
I pray you'll be my eyes
And watch her where she goes
And help her to b wise
Help me to let go
Every mother's prayer
Every child knows
Lead her to a place
Guide her with your grace
To a place where she'll be safe




I pray she finds your light
And holds it in her heart
As darkness falls each night
Re mind her where you are
Every Mothers Prayer
Every child knows
Need to find a place
Guide her to a place
Give her faith so she'll be safe
Lead her to a place
Guide her with your grace
To a place where she'll be safe
Celene Dion

ITS A BLUSTERY DAY IN THE DESERT
WOW,
May 10th and under 70 degrees!
WINDS 40-50 mph!
I am not complaining, as i loove the cooler temperatures. I am sure all the vistors to the Joshua tree NATIONAL PARK are thrilled as well!
Thankyou, Mother Nature*

Monday, May 09, 2005
brit * me I LOVE BEING GRANDMA


My precious Bittany made me a grandma at 34. My heart hurts because she lives so far away and we only get to spend time together 2x a year.

She is an amazing little girl with Love and passion for school, baseball, gymnastics, and who knows what next.

She is a great Blessing in our Lives.

We LOVE YOU Brit XOXOCOXOCO

PEACE
"Peace is not something you wish for; It's something you make, Something you do, Something you are, And something you give away."
Robert Fulghum quotes