Friday, June 17, 2005
War-Oh- Good God! What Is it Good For? Absolutely Nothing! Say it again!



821 Days since the war began.

152,000 Estimated number of U.S. troops deployed in Iraq.

200 Billions of dollars spent on the war.

7 Billions spent every month to maintain occupation.

1,713 U.S. troops killed in Iraq since invasion on March 19, 2003.

11,285 U.S. troops wounded since March 19, 2003.

2,346 Iraqi military and police killed,

June 2003-June 15, 2005.22,300-25,300 Iraqi civilians killed since the beginning of the war.

285 Multiple-casualty bombings by insurgents as of June 15, 2005.

203 Foreign citizens kidnapped since May 2003.

Thursday, June 16, 2005
CAPTAIN JACK SPARROW
bkdj 004_edited

Originally uploaded by

majamom

.

Jack wanted his possible association in these Feline Murders Clarified.
I AM INNOCENT! JUST LIKE MICHAEL JACKSON!!


Whatever God does, the first outburst is always compassion
Meister Eckhart

Wednesday, June 15, 2005
100_0805
BEWARE THE MIDDLE AGED FELINE !!
The Feline Midlife crisis- FELINAPAUSE!I will re-post my cat horror, which has doubled in the past few weeks as Buddha, our once gentle, shy, slightly phobic, kitty, has followed in her Queens, (Miss Kitty) foot steps and is delivering 2-4 baby mice a day into our pet door. I am more than grateful neither one has found a baby bunny.


Sheis now 14 years old, and spent the first half of her life an inside cat, eating, snuggling, bathing, sleeping and so on.She rarely even took interest in the big fat horse flies that come along this time of year, dive bombing our heads, landing on food, and getting stuck on the inside of our window screens, buzzing like crazy! She had little interest in them, and would only occasinaly bat one gently with her fluffy white paw. She was a most content inside domesticated feline Queen, who never even ventured beyond our front door.Well.. LO and BEHOLD ....Miss Kitty went through a MID LIFE crisis- a FELINEAPAUSE of some kind and DISCOVERED her INNER HUNTRESS!!!!!No bird on are 2 acres was safe. Every god forsaken , desert chipmonk, pack rat,itsy bitsy baby mice- why even Lizards! became her victims.My PEACEFUL, DESERT, CREATURE SANCTUARY, became a KILLING GROUND, for the FELINE MURDERESS!It renewed her life, and traumatized mine!ALL my birdfeeders had to come down. No more feeding the amazing parade of Quail Families. Multiple corpses of dead, fuzzy everythings, are left by our front and back doors.I thought for sure she would slow down by 10-12 yrs of age, but NOOO!I would love to never again watch a bug eyed little desert mouse hanging on my porch wall , injured, trying to escape her wrath.I would be happy to offer her services free of charge to you, so I could return all my birdfeederd to their designated places and enjoy the almost year round chorus of desert bird song!AHHHHHH!!! this hole animal hunt and kill other animal is more then I can bear.! She is all yours!!!!!Well..... I have to ask the hubby- as he thinks both she and her great works are wonderful
THE CRIMINALS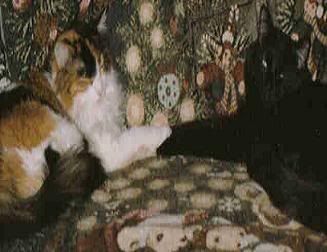 THE VICTIM

HELP SAVE PBS
***** save PBS and NPR ********
A childhood without SESAME STREET AND MR ROGERS??
I still can't get my brain around the idea as even a faint reality.

Please , sign your name demanding continued support for NPR and PBS
http://www.moveon.org/publicbroadcasting/?t=1
*******SAVE NPR AND PBS*******

Love * Peace To All,
MB

Tuesday, June 14, 2005
Your own mind is a sacred enclosure into which nothing harmful can enter except by your permission."
- Ralph Waldo Emerson

Monday, June 13, 2005
SUMMER IS HERE AGAIN
After 8 days of extraordinarily cool temperatures the heat has returned. Perhaps it was the earthquake that reawakened our sleepy desert to the fact that SCHOOLS OUT and SUMMER has officially begun!
I left the Yoga studio at noon to the dreadfully familiar Body bake that occurs when a car has been sitting in the sun for over an hour here. In order to prevent brain bake, I must reach in and turn on my car, turn on air conditioner, open all windows, and let the old girl Cool down before placing my post menopausa,l temperature control challenged self into the drivers seat.
Unfortunately for me my thermal cup ice water was now a warm cup of yuck, so I had to stop at Starbucks for a large ice water, a benti soy white chocolate mocha( I was hungry), and a blueberry scone. Well, I couldn't waist the stop on just a large water.
So..I realize I have been spending more time reading and exploring other peoples blogs which i Love doing; however it does little to add to my own spot here in the blogosphere. Being the pragmatic innovator that I am , I've decided to include any comments I have written that may be of interest to the viewing audience. It will also allow you to visit other folks blog's, if you feel so inclined
For today, in my life Love Is...my husband waking me up at 7 am with a fresh cup of Starbucks expresso roast coffee , kissing my sleepy head, and me saying "thank you babe" while being fully aware of the true joy of the moment and very grateful for his caring actionLove is- hauling my painful rotator cuff connected to the rest of my 43 yr old body to Yoga this morning. This affirms Love of self, Love of a practice called Yoga, which helps me connect to the very source of Love, God , higher power, Great Spirit, Universal Consciousness, the originator or that which creates and connects all things. The last time I read any physics, it was PROVEN under some kind of superman, super power microscope, that we all look the same when broken down to the smallest particles-Light!Who ever said "so let your light so shine before men", may have meant this literally, seeing how's electricity wasn't created yet =) or was it??But I digress..Love is, staying calm and focused

life in the desert
life in the desertFor happiness one needs security, but joy can spring like a flower even from the cliffs of despair.



Anne Morrow Lindbergh


Sunday, June 12, 2005
EARTHQUAKE!!
For the FIRST TIME in my 20 year history of living in this desert I SLEPT THROUGH THE EARTHQUAKE!
5.6 centered somewhere near Riverside.
No Injuries!
Thank God!
Now lets just hope this doesn't result in an disturbance of the SAN ANDREAS FAULT!!

BE AT PEACE MOTHER NATURE
BE AT PEACE*